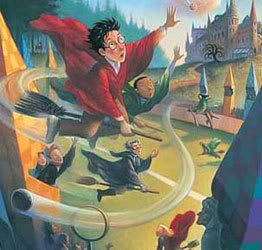 When I went to visit my friend Shayla at Colorado State University, she was about to try out for the Quidditch team. "I want to be a Keeper," she said
I wasn't sure I heard her correctly. "I'm sorry. Did you say
Quidditch?"

She did say Quidditch, and she then proceeded to show me pictures, video, and articles about college Quidditch teams around the country. It's for real. At CSU, Quidditch is still considered an extracurricular club, but at some universities, the sport of the wizarding world is actually a
sport
to rival football and volleyball.
After some geeking out about this new-found awesomeness, Shayla asked me if I'd like to write about her team - the CSU Boggarts - for YA Highway. I said yes in a hurry, and she introduced me to Christof Bentele, team co-captain, founder of the Harry Potter Alliance, and a psych major at Colorado State.
How long have you been playing Quidditch with CSU?
Christof:
We have been playing since the start of the year, practicing every Friday and putting in some serious effort to improve our flying skills. As most our team didn't know they could fly on brooms before now, there was a healthy learning curve, but we have seen so much improvement over the semester.
Christof:
It fairly simple actually: 3 chasers (offensive), 2 beaters (defensive), 1 keeper and 1 seeker per team. The chasers play with the quaffle with the aim of putting it through one of the opposing team's 3 hoops for 10 points. The beaters play with the bludgers (3 of them) and throw them at opposing players to "knock them out" and take them out of play until they reach their own goal posts. The keeper attempts to defend their hoops and the seeker attempts to catch the snitch for 30 points to end the game. The snitch is a person who runs and is dressed in yellow, he or she evades the seekers from grabbing the sock and ball that hangs from their waistband. Also everyone but the snitch must be on a broomstick at all times. All of this and a fair amount of magic is always helpful.


What's your favorite part of the games?
Christof:
My favorite part, as a Keeper, is being able to make a clean tackle to prevent a goal. With 3 large hoops to defend, it is nice to actually prevent a score for our team. Sometimes I can even take possession of the quaffle and run to the hoops for a goal as a keeper, very exciting if it works.
What kind of reactions do you get from Muggles when they learn that you play a sport from the Harry Potter Universe?
Christof:
"Ten points to Gryffindor" every time.
What is your team looking forward to next semester?
Christof:
We are losing a few players at the end of the semester and so we are hoping to attract some new members and actually train up to win some more matches. I also hope we can go to
some elementary schools and teach the game to eager learners.
Thanks again to Christof for giving us a peek into the wizarding world of CSU!
And now, for your viewing pleasure, a video from the Quidditch World Cup.